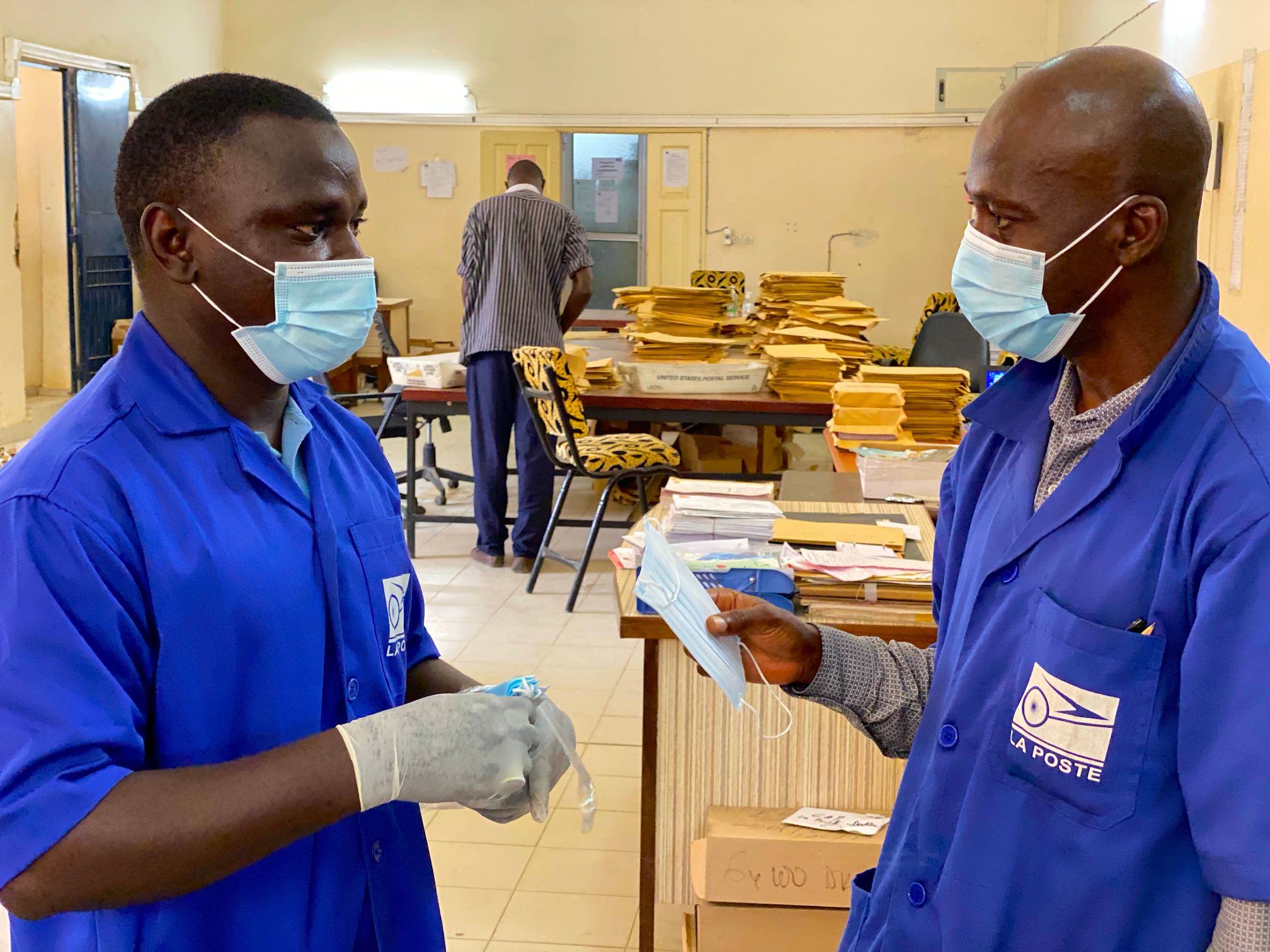 UPU provides 1.2 million masks to LDCs
Zambia is the first of 37 least developed countries (LDCs) to receive a shipment of protective masks through a joint project organized by the Universal Postal Union (UPU), the United Nations specialized agency for international postal cooperation, and the United Nations Office for Project Services (UNOPS).
"The Post has been seen as an essential service in many countries, supporting the delivery of essential information and goods throughout the pandemic. Postal workers have been tireless in their dedication to serving their communities on the front line – it is our priority to make sure they are protected as they continue to do so," said UPU Director General Bishar A. Hussein.
More than one million masks are to be distributed by the programme to protect postal workers who have continued providing services throughout the COVID-19 crisis.
The UPU organized the project through its development cooperation budget, as well as donations from China (People's Rep.), France, Japan and Switzerland. UNOPS has provided logistical support on the project, helping to organize the procurement and shipment of the masks, despite global supply shortages and transport disruptions.
"In serious crises like the one we are currently facing, international cooperation shows the fundamental value of solidarity with the most vulnerable countries. The joint efforts by the development cooperation of the International Bureau, donor countries and the restricted unions are the surest way to provide coordinated support to developing countries at this moment of crisis," said UPU Development Cooperation Director Rudy Cuadra.
The following LDCs are expected to receive their shipment of masks in the near future: Comoros, Cambodia, Djibouti, Ethiopia, Lesotho, Madagascar, Malawi, Mauritania, Mozambique, Senegal, Somalia and Tuvalu. Shipment details are still being arranged for the remaining 24 countries.
Once the materials are delivered, the UPU will examine the possibility of securing other forms of personal protective equipment and providing additional assistance to support postal staff in LDCs and other countries facing difficult circumstances.
For more information about the project, see this
recent interview
with Sandra Bonfigli, a procurement assistant in the UPU's Development Cooperation Directorate.
***
The Universal Postal Union is a UN specialized agency with its headquarters in the Swiss capital Berne. Established in 1874, it is one of the world's oldest international organizations and is the primary forum for cooperation between postal sector players.
For further information, please contact:
Kayla Redstone
Communication Expert
Universal Postal Union (UPU)
Mobile: +41 79 548 96 70
Email: kayla.redstone@upu.int